Remodeler of the Year Awards due by November 2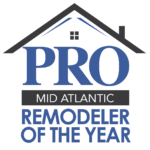 It's PRO Remodeler of the Year Awards season and there's no time to waste. This is a fantastic way to get your work in front of high end clients of Home & Design magazine. The 2022 winners were also featured in the May/June edition (see page 124).
It takes time to build a high caliber entry so you'll want to plan accordingly. In fact, there's a webinar coming up July 13th that can help. Previous winners will share what they've learned about creating an entry that shows off the merits of their projects and meets the judging requirements.
Don't miss these important dates:
October 14 – Late Entry pricing begins
November 2 – Awards Portal closes at 5 pm
See last years winners to see projects that speak for themselves and reveal the quality of each company's work.
Last year judges from around the country reviewed 109 Remodeler of the Year entries, totaling more than $32,350,000 spent on investments in life-transforming home remodeling projects.