Use your PRO discount for U40 Leadership Summit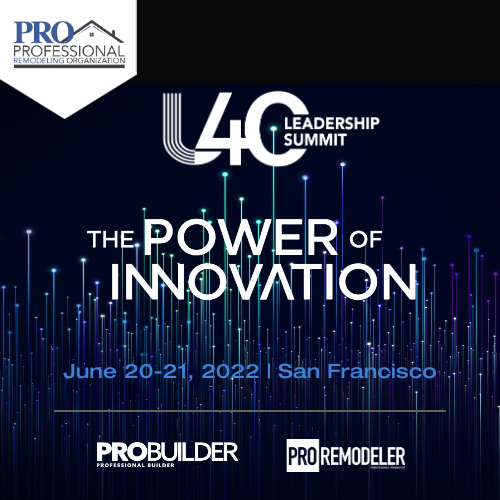 PRO is a proud Association Partner of the U40 Leadership Summit in San Francisco June 20-21. As a PRO Member, you can attend at the special rate of $295. That's a $300 discount! Use the code PRO when you register.
The U40 Summit offers young leaders two days of leadership development, presentations from industry experts, a tour of innovative model homes in the area, and the opportunity to network with peers from all over the country. In addition, receive 1 free pass to PCBC's Exhibit Floor which features over 200 leading manufacturers and suppliers and 15 educational sessions. You'll come away with dozens of new business ideas as well as contact information for like-minded industry colleagues.
Presenters include:
Megan Eltringham, Corporate Vice President, Marketing @The New Home Company
Brek Goin, Founder and CEO @Hammr
Lindsay Helmick, Chief Financial Officer @Allen Construction
Victor Mezhvinsky, Founder & President @FORMA Construction
Sheryl Palmer, Chairman & CEO @Taylor Morrison Home Corporation
Matt Panella, aka "Matt Bangs Wood", Founder @Support the Youth, Inc.
Chad Sanschagrin, Owner @Cannonball Moments